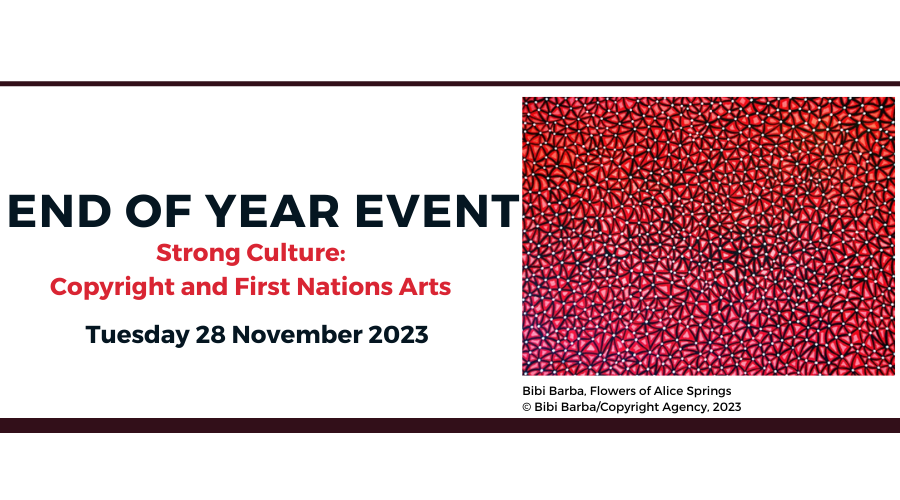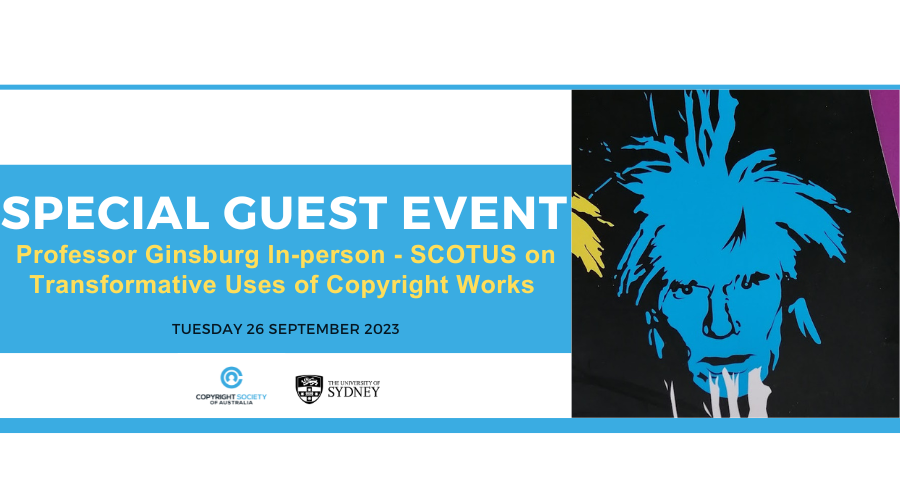 TUESDAY 28 NOVEMBER 2023
6:00pm - 8:00pm
OVERVIEW:
Please join us for a thought-provoking exploration of the intersection between copyright, Indigenous Cultural and Intellectual Property, and Australia's First Nations' cultures. "Strong Culture" is a unique event that continues Australia's vital conversation about the protection of cultural heritage, storytelling, and artistic expression. This important discussion will continue with Productivity Commission Commissioner Lisa Gropp, Artist Bibi Barba, and Director of Visual Arts and Design Policy, Office for the Arts (Federal) Patricia Adjei—moderated by Kate Hay and Luke Hawthorne from King & Wood Mallesons.
One year ago, the Productivity Commission released its Study Report, examining the value, nature and structure of markets for Aboriginal and Torres Strait Islander visual arts and crafts. The Study Report made compelling recommendations to the Australian Government to address deficiencies in these markets.
The Copyright Society of Australia is proud to host this End of Year event to ask: What is next for "Strong Culture" in Australia? What reform is needed? When does copyright work best? Building on the Study Report's recommendations, and our belief in Australia's copyright system, be part of this crucial dialogue where we discuss a future where First Nations voices can (continue to) thrive and flourish.
We look forward to you joining us and invite all copyright professionals to attend our End of Year event.
DETAILS:
Date:  Tuesday 28 November, 2023
Time:    6:00pm – 8:00pm
In-Person Venue: King & Wood Mallesons, Sydney
Level 61, Governor Phillip Tower, 1 Farrer Place, Sydney
Drinks and Canapes will be served
Live Stream Webinar
6:30pm – 7:30pm
Online: Members $35 | Non-members $55
In-person: Members $55 | Non-members $75
1 CPD unit for attendees
All members and friends are welcome.
Members need to log-in to be able to purchase discounted member-only tickets.
BECOME A MEMBER
JOIN THE COPYRIGHT SOCIETY OF AUSTRALIA TO ENJOY DISCOUNTED TICKETS AT ALL EVENTS AND OTHER ADDED BENEFITS.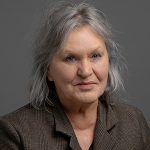 LISA GROPP
Commissioner, Productivity Commission
Lisa Gropp commenced a 5 year term as a part time Commissioner with the Productivity Commission in May 2019.
Lisa has extensive experience in applied economic research and the development of public policy focusing on national economic capability and productivity. She has served previously at the Commission, which she joined in 1998, including as a First Assistant Commissioner and Principal Adviser Research. During this time she worked on a number of Commission inquiries, including into carbon policy emissions in key economies (2011), executive remuneration in Australia (2009), road and rail freight infrastructure pricing (2006) and the impacts of medical technology (2005).
Prior to returning as a Commissioner, Lisa was the Chief Economist at the Business Council of Australia from January 2015 to September 2018. Lisa was also a Research Fellow at Monash University focusing on trade policy and has held ministerial advisory positions.
Lisa studied economics at both Melbourne and Monash Universities.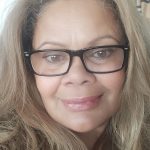 BIBI BARBA
Artist
Bibi Barba was born in Roma and raised in Liverpool, Sydney, Australia. Inspired by her Grandmothers stories of her life and love of the land, Bibi's artwork has developed a sense of vivid storytelling, melding traditional indigenous design with contemporary style and innovative colour combinations.
Speaking fondly about her childhood Bibi says, "Every Sunday night, we'd go to Nan's for dinner. And she would tell us stories. I know they were stories of her life. She would say to me, 'you have to go back home. Go home and get the feeling for your country. Feel it. Paint it'.  And Bibi did just that. She says, "I adored my Grandmother, so I went back to the Australian Bush and started to physically feel my culture. That's what she told me to do. In a way, I'm saying thank you to her in my paintings."
Bibi started with watercolour tubes, painting symbolic stories onto paper in rich pinks and greens and yellows. She never showed anybody, the paintings stayed hidden until a friend came across them. Her friend then took some of the small paintings to show a gallery owner. He was so impressed by Bibi's instinctive style that he invited her to exhibit her work in his gallery.  Her first solo exhibition, comprising of 25 watercolours, sold out. Since then Bibi has continued to develop her technique, telling stories about her life and love of her land through sensuous shapes and vibrant colour on canvas.
Bibi has evolved in technique since then, "I use all kinds of materials to paint, ranging from traditional earth pigments and sand to acrylics, watercolours and inks." Bibi has recently adopted a new technique of embossing painted silk onto Belgian linen fibre canvas. This gives the painting a rich lustre.
"My paintings depict traditional women and their children in a natural setting, living off the land. They are inspired by my grandmother, aunty and my mother. I hope to capture the sensuality of the women and the freeness of the children roaming about in the landscape in which they are depicted."  Many of her recent works are predominantly inspired by the Australian Landscape. They use bold colours and repetitive patterns that represent the nature and movement found in the Outback.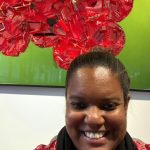 PATRICIA ADJEI
Director, Visual Arts and Design Policy • Standalone Legislation • Creative Industries Division
(Federal) Department of Infrastructure, Transport, Regional Development, Communications and the Arts
Patricia is a Wuthathi, Mabuiag Islander and Ghanaian woman from Sydney, Australia. She is the Director leading the standalone legislation at the Department of Infrastructure, Transport, Regional Development, Communications and the Arts. Previously, Patricia was the Head of First Nations arts at Creative Australia. She has a Bachelor of Arts and Law from UNSW and the 2022 UNSW Alumni winner for her contribution to art and culture. She was also a 2018 Churchill fellowship recipient, investigating the practical application of laws in the USA and Panama that protect Indigenous cultural rights.
Patricia has worked on developing the Creative Australia Protocols for using First Nations Cultural and Intellectual Property in the Arts. Patricia has served on the City of Sydney, Aboriginal and Torres Strait Islander advisory panel and has been a Board member of the Contemporary Pacific Arts Festival and the Moogahlin Performing Arts Board. She is currently on the RAP advisory committees for Beyond Blue and Intrepid Travel. She is an advisory member of the Sunshine Coast Arts Committee and the editor of the inaugural Lexis Nexis First Nations legal newsletter. Trish also previously worked as a lawyer at the Copyright Agency, Arts Law Centre of Australia and National Indigenous TV. Patricia was the 2010 WIPO Indigenous intellectual property law fellow and has attended WIPO IGC meetings on TK since 2007. She is also a published author, having written several articles and a chapter on Indigenous cultural intellectual property rights.
MODERATOR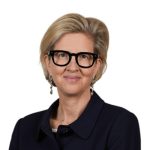 KATE HAY
Partner, King & Wood Mallesons
Kate has more than 20 years' experience in domestic and cross-border copyright litigation. She has been at the forefront of a number of the key copyright matters in recent years including the High Court's decision in relation to online use of photographs for REA, the Aboriginal Flag deal with the Commonwealth Government and the Pokémon litigation against Redbubble (one of the key cases in relation to authorization).
She acts for a number of clients in relation to their copyright enforcement campaigns, and has advised extensively in relation to platform liability and generative AI.
Kate is also co-lead of King & Wood Mallesons' Artists in the Black Project, a collaboration with Arts Law, Telstra, and 6 First Nations arts centres which promotes and protects the rights of artists, arts centres and their communities. She acts for Tangentyere Artists Aboriginal Art Centre, SharingStories Foundation and Bula Bula Arts in relation to a broad range of copyright matters.
Kate is a member of the Intellectual Property Committee of the Law Council of Australia, the Vice President of the Australian committee of the Intellectual Association for the Protection of Intellectual Property (AIPPI), and a member of the Intellectual Property Society of Australia and New Zealand (IPSANZ). She has published widely and contributes to submissions to the Australian Government in relation to its copyright reform agenda.