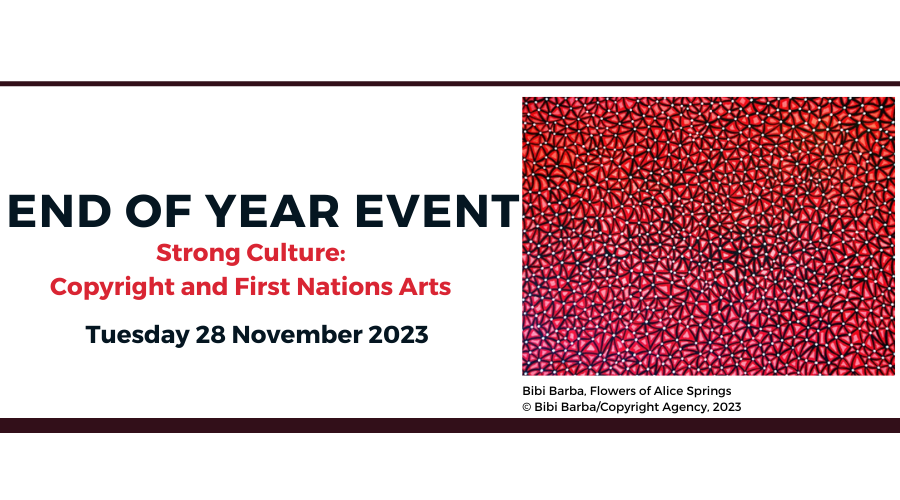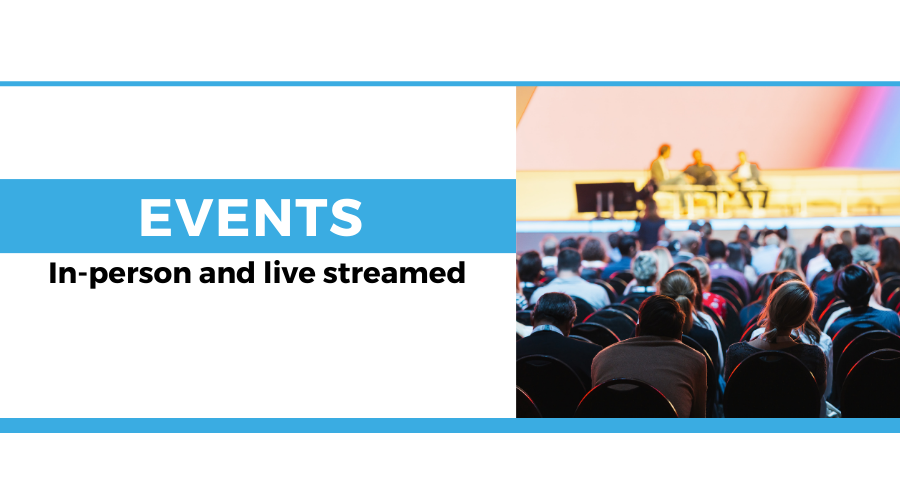 The Copyright Society of Australia is a not-for-profit society dedicated to the study of copyright law and related matters. The Society is an independent organisation and does not seek to represent the interests of any particular special interest group. The purpose of the Society is to provide a forum for education, discussion and exchange of ideas and information about copyright issues. The members of the Society are copyright professionals.
END OF YEAR EVENT - Tuesday 28 November 2023
Strong Culture: Copyright and First Nations Arts
IN-PERSON & LIVE STREAM WEBINAR
Membership
If you have a special interest in or experience with copyright and related rights, you are eligible for membership of the Copyright Society of Australia.
Membership benefits include discounted tickets to all events, an annual e-subscription to Copyright Reporter and networking opportunities.
We offer four categories of membership:
Group (Corporate/Organisation)
Individual Professional
Individual Academic
Individual Law Students
NEXT EVENT - Strong Culture: Copyright and First Nations Arts
Can copyright and law help strengthen First Nations culture?
Join us for a thought-provoking exploration of the intersection between copyright, Indigenous Cultural and Intellectual Property, and Australia's First Nations' cultures. "Strong Culture" is a unique event that continues Australia's vital conversation about the protection of cultural heritage, storytelling, and artistic expression.
This important discussion will continue with Productivity Commission Commissioner Lisa Gropp, Artist Bibi Barba and Federal Government Office for the Arts, Director of Visual Arts and Design Policy, Patricia Adjei—moderated by Kate Hay and Luke Hawthorne from King & Wood Mallesons.
In-Person & Live Stream Webinar
6pm - 8pm
King & Wood Mallesons, Sydney
Level 61, Governor Phillip Tower, 1 Farrer Place, Sydney
JOIN OUR MAILING LIST TO RECEIVE CSA NEWS
EVENTS
The Copyright Society of Australia runs a number of events (generally between four and six a year) on a variety of copyright-related topics.
SYMPOSIA
The Copyright Society of Australia hosts the Copyright Law & Practice Symposium every two years.
COPYRIGHT REPORTER
The CSA publishes the Copyright Reporter.   Copyright Reporter issues contain articles, case notes, and other information about copyright.  READ MORE…
VALE CAROLINE MORGAN BA, LLB (USYD) MBA (AGSM)
The Copyright Society of Australia is deeply saddened to announce the passing of Past-President Caroline Morgan.
Caroline Morgan served as CSA's President from 2004 until 2014. Recognised as a global authority on copyright law, collective licensing and reprographic rights, Caroline made enormous contributions to the copyright communities in Australia and around the world. Since 2016 she has served as the Chief Executive of the International Federation of Reproduction Rights Organisations (IFRRO) in Brussels.
Graduating from the University of Sydney with degrees in Arts and Law, Caroline's career was forged at Copyright Agency where she served as General Manager from 2007 until 2016. At the same time she chaired IFRRO's Asia Pacific Committee and Legal Issues Forum until her appointment as IFRRO's Chief Executive.
Caroline will be remembered for her outstanding leadership, brilliant intellect, sharp wit, good humour and collegiality. As a fierce advocate for creators' rights she will be deeply missed by her many friends and professional colleagues in the copyright world.
We offer our sincere condolences to her family and friends.
Alida Stanley
President