19th Biennial Copyright Law and Practice Symposium 2019
2019 Copyright Law & Practice Symposium Event Wrap-up
This year the Powerhouse Museum was the place to be for the 2019 Copyright Law & Practice Symposium.
This year's event kicked off in style with a surprise rendition of "Love is in the Air" by Kamahl — a work which was at the centre of a copyright infringement case in the Federal Court earlier this year. We all look forward to the judgment, with any luck, by year's end.
Aunty Ann Weldon followed with a passionate and culturally astute Welcome to Country.
Eileen Camilleri, CEO of the Australian Copyright Council and Zeina Milicevic, President of the Copyright Society of Australia opened by welcoming the attendees with help from creator, Brendan Gallagher, and innovator, Alex Prior, which set the scene for the 2019 Copyright Law & Practice Symposium and our theme; Creativity. Innovation. Modernisation.
Grant McAvaney entertained the audience in the first of six Copybyte sessions, which delivered a short, sharp and…poetic look at the potential reform of the copyright framework in Australia.
Professor Jane Ginsburg then delivered an engaging keynote on Authorship and Artificial Intelligence which explored issues of authorship and posed the question of deterrence for metadata stripping.
Following a short break with morning tea, Jo Teng delivered the second Copybyte session and entertained everyone with some clever memes to illustrate the use of quotations and the now, not orphaned work of, socially awkward penguin.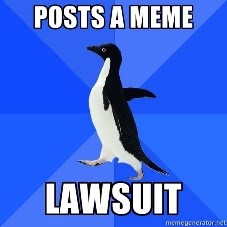 Cate Nagy chaired our Corporate Counsel Panel on the streaming world which featured speakers from wide ranging industries from public broadcasters, content owners/providers to gaming whose companies are all active participants in the streaming environment.
After a refreshing lunch, Isabella Alexander led the group through the third Copybyte on sharing, preserving and digitising culture with some personal case studies.
A last minute line-up change didn't disappoint in the Anita Cade lead contracting out and competition session in which a senior project manager from the ACCC provided some insight into the ACCC's operations.
Afternoon tea was followed by a perceptive look into cultural heritage, art and technology.
Some closing remarks and housekeeping before we made our way to the Symposium dinner at QVB Tea Rooms. A thoroughly enjoyable evening which featured the induction the Copyright Society of Australia's Honorary Life Member, Angela Bowne SC, and The Chaser's Julian Morrow presenting Ethical Pursuit at a great venue with great catering.
Day two began with a welcoming from Libby Baulch, Australian Copyright Council Board director and past CEO and Michael Green SC, Copyright Society of Australia Treasurer.
Dan Hunter presented an informative Copybyte on the rise of the machines.
Scot Morris introduced the Symposium's day two keynote presented by Gao Hang which took the audience through developments within the Asia Pacific region.
Cate Nagy ran through text and data mining in Copybyte five before being captivated by a panel, which was represented by all corners of the world, on digital platforms and cultivating the right environment. If all speakers got together in a locked room the world's problem would be solved.
Following lunch, the audience was treated to an illuminating panel which tested the experts on post-modern(isation), creativity and innovation.
Carolyn Hough delivered the final Copybyte on the current legislation relating to educational use and digital classrooms. All 6 Copybytes were well received and sure to be a feature at future Symposia.
The Symposium bar was opened before the final session of important recent copyright cases presented by John Hennessy SC and Frances St John with an enlightening element of authorship.
The 2019 Copyright Law & Practice Symposium came to a close with final remarks from Eileen Camilleri and Zeina Milicevic.
Stay tuned for future editions of the Copyright Reporter where we will be publishing more detailed reports from some of the key sessions from this year's symposium.
Details of our upcoming events are on our website https://copyright.asn.au/events/ and if you wish to become a member of the Copyright Society of Australia, please refer to the membership page on our website https://copyright.asn.au/membership/ or contact info@copyright.asn.au
The Copyright Society of Australia has moved LinkedIn pages – please click the below link to follow us https://www.linkedin.com/company/csofa
Thank you and see you for the next Symposium in 2021!
Copyright Society of Australia